Welcome to
Daily Bread Surfboards
We only ride one wave at a time, so we only make one board at a time, it makes sense. That's the Daily Bread way, it's all about having enough for today and riding that wave for all its worth.
From our workshop on the Mendip Hills of South West England we love making hollow wooden surfboards, you can even come and make one with us if you'd like?
CUstom
Making custom boards... We start by having a conversation: we can talk, meet and exchange ideas until we are both comfortable with what it is we are trying to achieve. You can design almost every aspect of your board including length, shape, cedar stringers, nose and tail blocks, leash plug, fin set up and much more!
SHAPE YOUR OWN BOARD
"Spent an incredible four days shaping 'Joel' with Chris. He is a true craftsman and a inspiration to work with. I now have the most incredible 8' 6" unique board. Can't recommend the whole experience highly enough." Rob
No kit here... We start with a blank sheet of paper and design your board together until we are both happy. Then we choose a rough plank of Paulownia and together shape it into something beautiful.
Don't worry if you have never used hand or power tools before. Attitude is more important than ability! I only work with one person at a time and with a little bit of encouragement you will be amazed at what you can produce, however if you have any concerns please ask.
Click the button for a little bit more on the process.
Repairs
I repair wooden boards and foam boards, this is an art in itself!
A board's dings are part of its history and strangely the repair itself can become part of the overall beauty of the board.
It is difficult to generalise about the pricing of repairs but I charge £25/hour for workshop time plus materials. I would expect a rail or deck ding to take me a couple of hours of labour to fix, plus a couple of days for resin coats to cure etc. but get in touch, send me a picture and I'll be able to give you a better idea.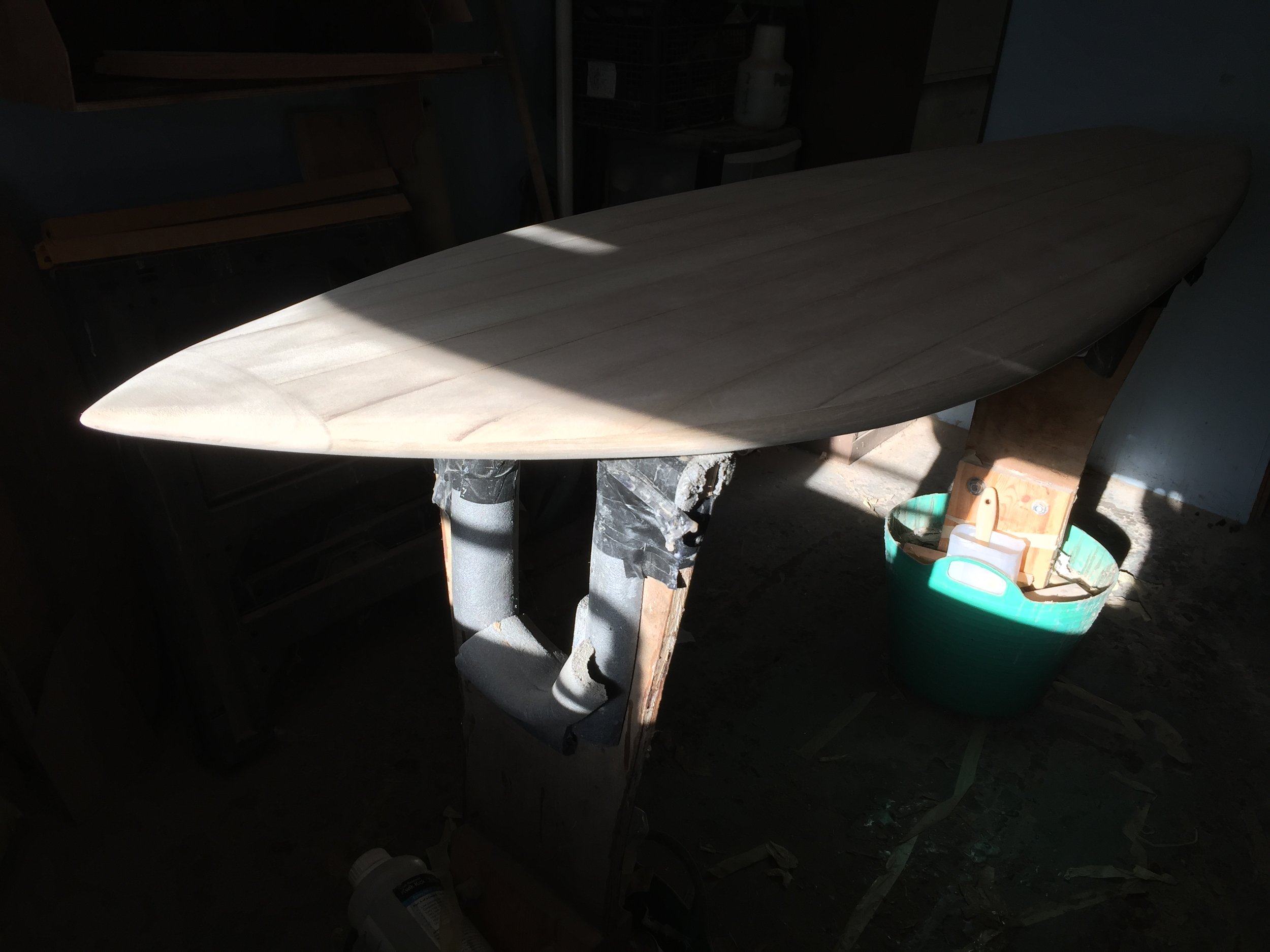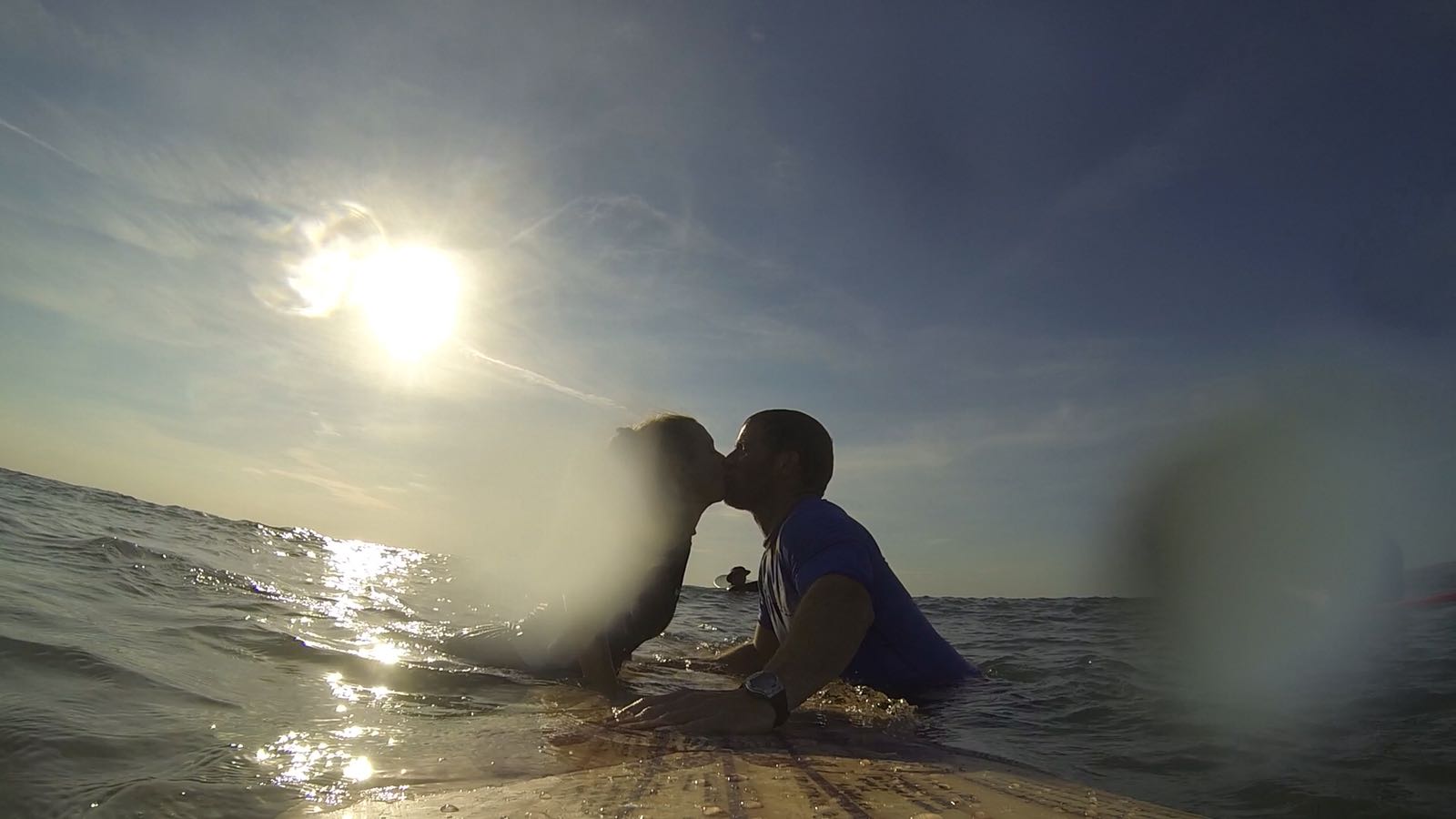 I really don't like wasting wood so I make lots of lovely things from the offcuts. Take a look there are lots of present ideas for surfers.
ROB ~ 8'6" 3 FIN, MAL'
Spent an incredible four days shaping 'Joel' with Chris. He is a true craftsman and a inspiration to work with. I now have the most incredible 8' 6" unique board. Can''t recommend the whole experience highly enough.
CARLOS ~ 5'6" FISH
A true masterpiece. Quality craftsmanship in every detail. Chris from Daily Bread took on the project with attention to detail and was able personalize the board so that our vision came to life. My family and I have proudly displayed the Amos 5'6" prominently as a centerpiece in our living room causing me to dream daily about the ride.
Balsa board ~ harris
"Hi Chris thanks for the message. The board is back in my hands and has been parading herself at Saunton and sometimes Croyde. You have done a great job and I am so happy to get her back so seaworthy! Surfs like a dream :) Thank you! ...I emailed countless experts on wooden surfboards and no one came up with the solution you offered. Everyone all said its hard to make wooden surfboards and impossible to fix them but you did just that. The craftsmanship of your repair is outstanding and you made it into a feature of the board."
Balsa Board ~ Davina
"Dear Chris, Thank you for doing such a brilliant job, bringing the board make to life again.
I really appreciate all the work and expertise you have put into restoring it to its former glory ….and beyond.I love the mat finish you have used and all the detail you took pains to preserve and retouch. I never would have thought that from the sorry state it was in, having been dumped in a skip in Rotherhithe, that you would be able to work such magic and make it such a beautiful thing….I love it. Thank you so much. Davina
BELLY BOARD ~ PETER
Fantastic surf board, beautifully hand made.Great job Chris, thanks very much, highly recommended!
HANDPLANES ~ CHRIS
BTW I'm not sure if I told you but the hand boards you made before as a present for me went down amazingly well, the parents said it was the most thoughtful and lovely pressie they had received, which was lovely to hear!
ALAIA ~ RUSS
Hi Chris
My sister absolutely loved the board! I think she's posted it on Instagram and tagged you in her post.
Happy holidays and thanks again for your effort and craftsmanship.